Click here to book your place:
If you need to cancel or change your reservation, please alert the organisers as soon as possible to reallocate your reservation!
We kindly ask for cancellation notice at the latest 24 hours before the event. The reservation is valid until 10 minutes before showtime. Please come early!
We take spam seriously: We will NOT send you anything else other than a reminder of your reservation on the day of the event!
Alternatively, you can make a reservation by phone at (+30) 6943 642039 [11:00 - 14:00, plus 18:00 - 20:00 on event days]

(*) Required field
Javascript must be enabled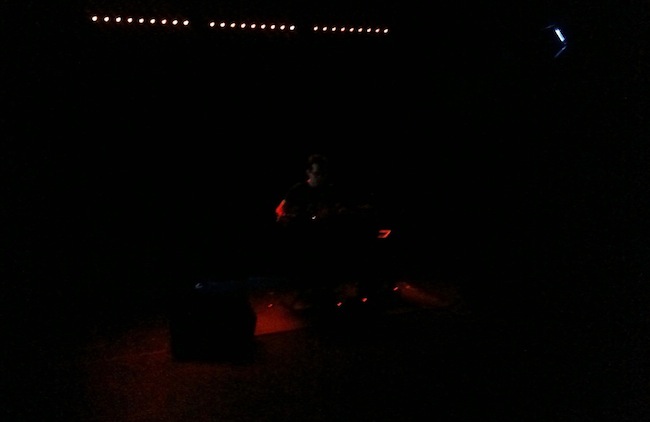 Kostis Kilymis
Void
Vitruvian Thing, Ptolemaeon 29A, 4th floor, 54630, Thessaloniki
Kostis Kilymis (London) returns to Thessaloniki for a performance of his new work Void, a piece that focuses on the artist's extensive work on field recordings, bringing it into focus together with live electronic treatments.

This new work examines our sense of space and works on building narratives through the assemblage of everyday and extra-musical sound. Using recordings from the streets of London and elsewhere, he constructs with them a new sound world that brings us closer to our own listening experience and allow us to draw out strange feelings and images of experience.

Kostis Kilymis is a Greek-born artist based in London. His work focuses on repetition, noise, immersive environments, feedback systems and the notion of representation. His music combines rhythm, field recordings and synthesised sound, reprocessed live and on location. He has been an improviser, performer and collaborator – his encounters including Lucio Capece, Nikos Veliotis, Greg Pope, Leif Elggren, Sarah Hughes, Stephen Cornford and Phil Julian amongst others.

He has performed across Europe in venues such as Café OTO (London), Q-O2 (Brussels), SGT (Athens) and in festivals such as Audiograft (Oxford) and Inmute (Athens). Work of his has been exhibited in gallery spaces in Oxford, London, Montpellier and Athens. He curates the Organized Music from Thessaloniki label and co-curates Rekem Records.

Selected discography:

Fustian Cutting (με τον Phil Julian) [Coherent States, 2016]
Not Homesick (Pt. 1 & 2) [Strange Rules, 2015]
Bethnal Greener [Rekem Records, 2015]
Arctic Saturation [Mazurka Editions, 2014]
More Noise Ahead [Entr'acte, 2012]
The Good Life (με τη Sarah Hughes) [Consumer Waste, 2012]
Syndromes - Temporary Perspectives [Organized Music from Thessaloniki, 2010]
www.kostiskilymis.com
www.rekem.org/Kostis-Kilymis-Bethnal-Greener
www.soundcloud.com/syndromesuploadcloud
Αdmittance by unspecified contribution policy
At Vitruvian Thing, we acknowledge the difficult financial circumstances of this period. So, unless otherwise noted, admittance to the events we host entails an unspecified amount: you decide how much the ticket should be and, in doing so, you are supporting the artists and helping Die Wolke keep the venue running. At the entrance, we issue donation coupons to acknowledge your contribution, equivalent to receipts, as required by law.

So, upon arrival at Vitruvian Thing and checking in at the welcome desk, you can choose your own price of admission: literally as much as you think is just right for you. You receive your coupon, and enjoy the show.